How to join our beta program
On iPhone
(Android, see below)
1- Download TestFlight, Apple's app for beta testers
2- Grab your iPhone
3- While using your iPhone, click this link: https://testflight.apple.com/join/qkjapYet
Tap this blue button: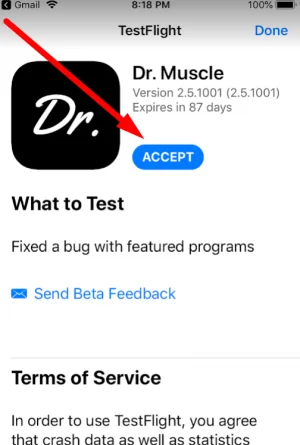 4- Open the TestFlight app on your phone
5- Tap Update next to Dr. Muscle
When you update, you may see a warning that you may lose your data in the original app. You can safely ignore it. You will not lose your data as it's stored safely on our secure server at Microsoft.
From this point on, you'll get emails from Apple when new versions are available to test.
On Android
1- Opt in on Google Play's Dr. Muscle page
2- Grab your phone
3- Open Google Play
4- Search for Dr. Muscle
5- Tap Update
From that point on, the app should automatically update to the latest (beta) version when we release one.