Fitbod App Promo Codes & Discounts (Active in 2023)
Fitbod promo codes and discounts tested to work in 2023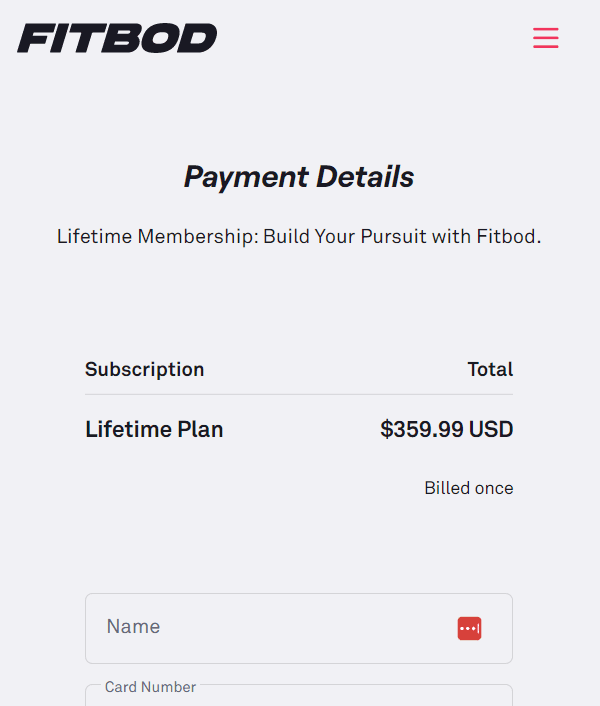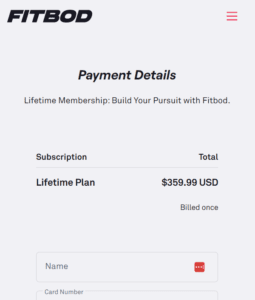 With Fitbod, you can get customized workouts based on your fitness level and goals (read our full review).
Problem is, it's not cheap. You get 3 workouts to try the app for free. After that, you'll have to subscribe if you want to continue using it.
Since you're here, we're guessing you're about to do that… and you want to make sure you get the best possible deal with a promo code, coupon, or discount.
Fitbod promo codes and discounts
Fitbod spends a lot on marketing, so it often runs sales and discounts.
Over the years, they've created a number of coupons and promo codes. You can still find them around the Web, but most of them are expired. So searching for the best Fitbod discount can be time-consuming and frustrating at times.
To spare you the hassle, we sifted through Google, Reddit, and coupon sites to find the best Fitbod promo codes for you. Good news: some codes still work.
Free alternatives to Fitbod
Before we jump in, a quick note. If you're not happy with Fitbod's cost, you can try a free alternative like Dr. Muscle (it has a free plan). Or any other option in our list of top 5 free alternatives to Fitbod.
Fitbod promo code
Fitbod app promo code
Want to save on your fitbod subscription? Check out these confirmed Fitbod app promo codes (all working as of December 9, 2022):
HOTELGYMS (25% off)
MOM (25% off)
WELCOME25 (25% off)
DEALRATED25 (25% off)
STU25 (25% off)
As you can see, all these codes give you a 25% discount.
Based on our research, these websites seems to be partners of Fitbod. For example, Hotel Gyms says: "We are big fans of our partner Fitness app Fitbod." Which is probably why they have their own promo code. Once again, their code is: HOTELGYMS. This code still works for us at the time of writing.
Fitbod Elite promo code
Fitbod Elite is the name Fitbod gave to their paid subscription.
When you subscribe to Fitbod, you subscribe to Fitbod Elite.
You can save on your Fitbod Elite subscription by using code DEALRATED25 at checkout. You'll get 25% off your monthly or yearly subscription.
Use promo code DEALRATED25 to get 25% off your purchase of a Fitbod Elite membership.
Fitbod referral code
Sadly, Fitbod does not provide a referral code.
Fitbod discount
Fitbod app discount
If you're looking to save money, you have a few options. First, the Fitbod app offers a discount when you sign up for a yearly subscription, so you can get access to all of its features at a lower price. Second, it offers codes and discounts you can apply on top.
Fitbod elite subscription discount
If you're looking for a discount on your Fitbod elite subscription, you can try contacting customer service. They may be able to give you a code or offer that you can use to get a discount on your subscription. You can also check out Fitbod's website for any current discounts or promotions that they are running.
Fitbod student discount
If you're a student, you can get a discount on Fitbod. Use promo code STU25 to get 25% off.
Fitbod family discount
Fitbod do not support sharing a subscription for the entire family at this time, but they say they are working towards a plan to support this in the future. All you can do for now is email if you and your family members would like to use Fitbod. Mention "Family Sharing" in the subject line.
Fitbod military discount
Fitbod used to offer a military discount, but it's expired at this time.
FAQ
If you're looking for a way to get fit and healthy, Fitbod is a popular option. They offer a variety of customized workout plans and exercises to suit your needs, and you can use promo codes and discounts to save on your membership.
Can Fitbod coupons be combined?
No, you cannot combine Fitbod coupons. Each coupon has its own unique code that can only be used once.
Does Fitbod give holidays deals?
Yes, it seems Fitbod does offer holidays deals. For example, we found a coupon for 50% off. But when we tried it, it didn't work. We'll update this section if new coupons come out for the holidays.
Does Fitbod run a Black Friday Sale?
Yes, Fitbod does run a Black Friday sale. In 2022, you could get a lifetime membership for $359.99 with code BLACKFRIDAY2022.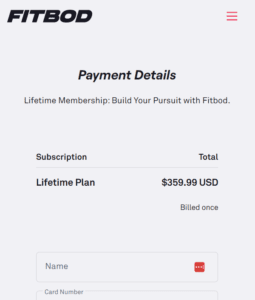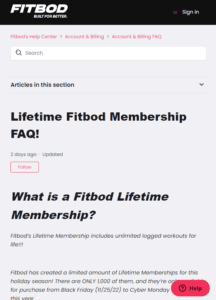 That code expired on Cyber Monday, and doesn't work anymore.
Does Fitbod give military discount?
Fitbod used to offer a military discount, but it's expired at this time.
Does Fitbod give responder discount?
No, Fitbod does not offer a responder discount. However, they do mention they "greatly appreciate" the service to keep the community safe.
Does Fitbod give student discount?
Yes, If you are an enrollee, you can receive a reduction on Fitbod! Utilize promotional code "STU25" to obtain 25% off your acquisition of a Fitbod premier membership for students.
Does Fitbod offer any coupons?
Yes, Fitbod offers a discount of 25% off the initial month or yearly membership fee to new customers. Use the code DEALRATED25 at the time of payment to avail this offer.
Is Fitbod good for bodybuilding?
If you're wanting to gain muscle mass, Fitbod may not be your best option. Users of the app have reported it changes your exercises often. This is not recommended. Two research studies imply that it is unnecessary, and could even impede your progress. Learn more in our review of Fitbod for bodybuilding.
What's Fitbod's best coupon discount right now?
Fitbod's best coupon is DEALRATED25. It gives you 25%. We searched carefully and tested every coupon out there. The best discount you can get is 25%. If that's still stretching your budget, can try any of the free alternatives in our list of top 5 free alternatives to Fitbod.
We will be updating this page regularly, so be sure to check back here for the latest Fitbod promo codes and discounts.