3 Best Bodybuilding App for Beginners—Build Muscle Faster
We've tested 13 bodybuilding apps to find the best for beginners who want to build muscle fast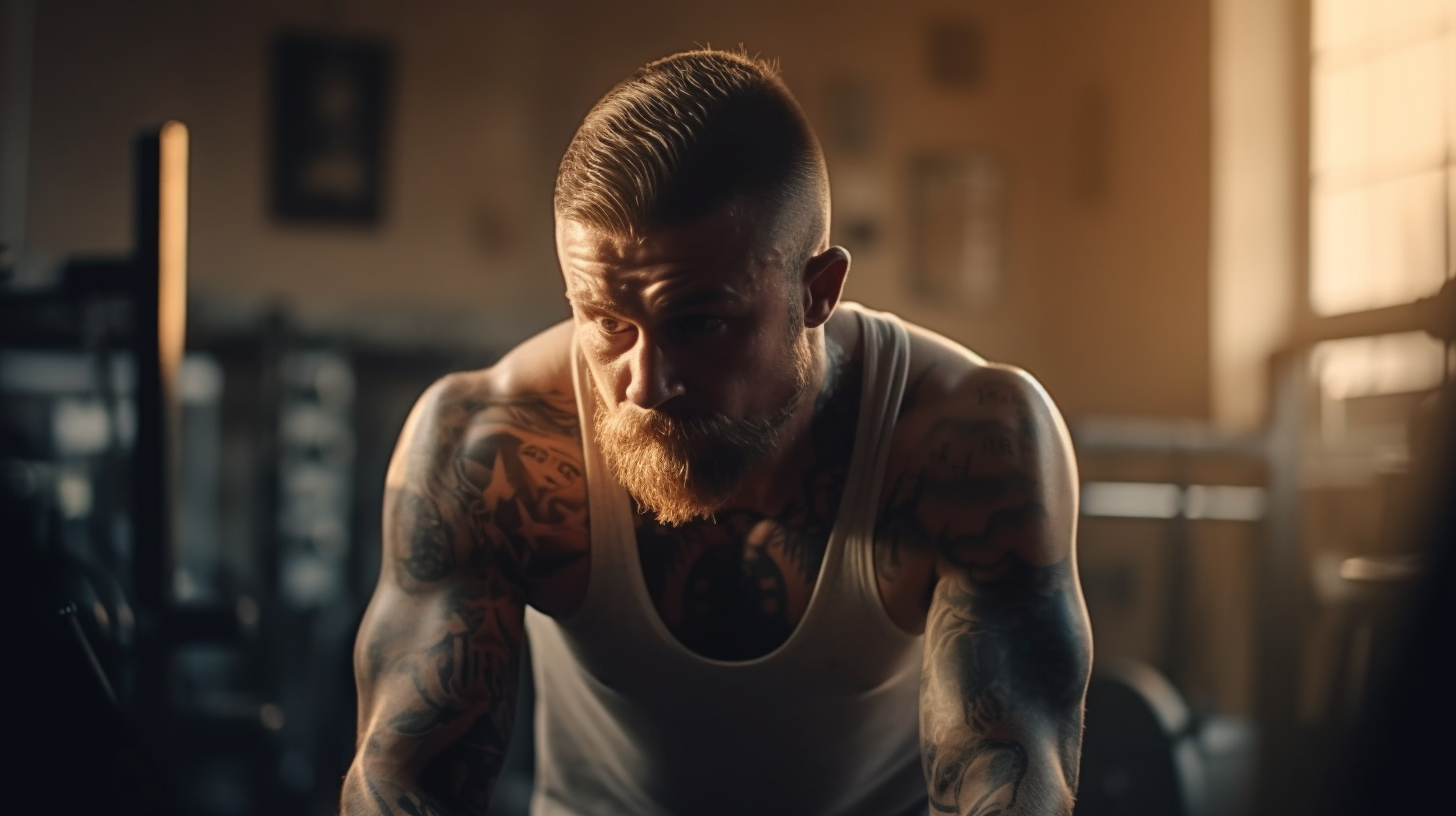 New to bodybuilding? Want to build muscle faster with a great bodybuilding app? You've come to the right place.
We've tested 13 of the most popular bodybuilding apps, so you don't have to.
In this article, we discuss the top 3—designed specifically for beginners who want to build muscle and strength.
Why this guide is different
If you google "best bodybuilding app for beginners", you'll find a ton of guides.
Including some we wrote on this very blog. Like Dr. Cholewa's in-depth, scientific review of the best bodybuilding apps (ranked #2 in Google at the time of writing).
The problem is those guides are not for beginners. Will the best app for a bodybuilder with 20 years' experience be the best for you? Probablly not.
That's why we wrote this companion guide with you in mind: the beginner.
The best app to build muscle as a beginner
In short, as a beginner, you need an app that applies the four basic principles of hypertrophy:
Overload
Specificity
Variation
Fatigue management
For example, the specificity principle states that you should select movements, volumes, and loads that match your level and the outcomes you are trying to achieve.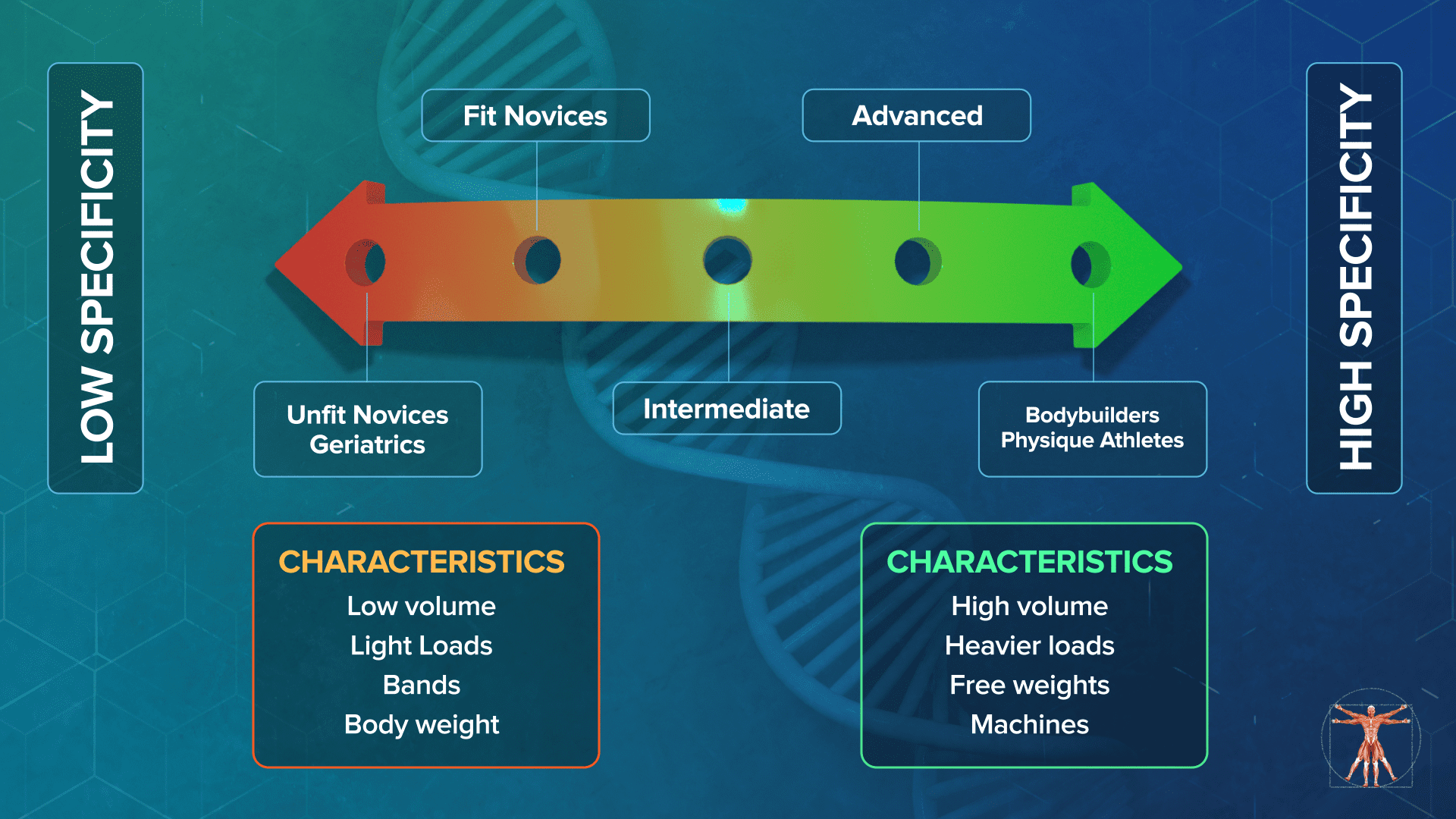 Learn more in our comprehensive guide to Muscle hypertrophy workout for beginners.
This is just one of the reasons you cannot begin your bodybuilding journey with any old app. You have to pick the right app for you.
In this guide, you'll discover:
What to look for in a bodybuilding app as a beginner
The top 3 bodybuilding apps for beginners according to our tests
The full list of 13 bodybuilding apps we reviewed, including those that didn't make the cut
Before we jump in, one last thing.
Why should you listen to me?
I've been a lifter and a coach for 20 years, and a trainer for the Canadian Forces.
I have a B.Sc in exercise science and a PhD in Public Health/Epidemiology (health statistics). I've helped about 10,000 people get in shape 1-on-1, in group classes, and online.
And I walk the walk, being in decent shape myself.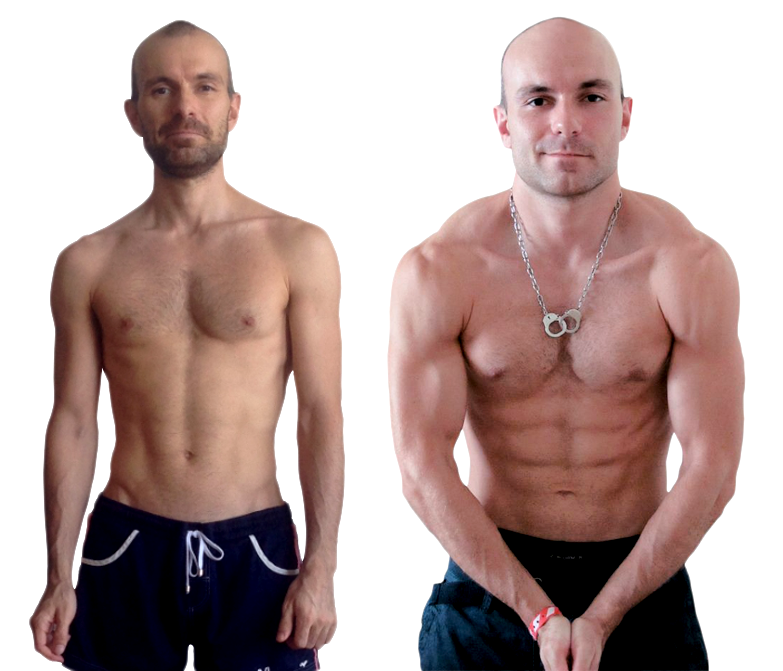 Top 3 bodybuilding apps for beginners
Dr. Muscle: Best overall
With 23+ smart features, Dr. Muscle is the world's smartest workout app.
The app uses AI to optimize and personalize your training routines based on your goals, progress, and fitness level.
You start by answering a series of questions. You then get a custom program based on your goals, experience, equipment. That's great for beginners who do not know where to start.
From your very first workout, the app guides you and optimizes your progress in real time, like a top trainer. This helps ensure you are always challenged and progressing optimally toward your goals.
Full disclosure: In 2016, I finished my PhD, gathered a small team, and started building Dr. Muscle. We built Dr. Muscle with all the features we dreamed about—but couldn't find. We use it every day. That said, we want you to make an educated decision. So, here's a list of pros and cons based on customer feedback:
Dr. Muscle pros:
Uses AI to analyse your performance and adjust workouts accordingly
Personalized workout routines based on your fitness level, goals, and available equipment
Extensive library of exercises, complete with descriptions, demonstrations, and instructions on how to perform them correctly
Based on scientific principles and research, ensuring you receive safe, effective, and efficient workout plans
Dr. Muscle cons:
Not the best design
Works best with an Internet connection (offline mode is slow)
Plethora of advanced features may be too much for some
Learn more about Dr. Muscle (you can try it free).
Strong: Best usability
The Strong workout app is a convenient and useful tool for lifters looking for an easy-to-use tracker.
It lets you create your own programs and keep records on your phone, making it a great alternative to a traditional notebook and pen.
The app also offers useful features like tracking total volume. However, for complete beginners without a workout plan, this app might not be the best choice, as it doesn't provide coaching or suggest exercises, reps, or intensity levels.
Strong pros:
Convenient and easy-to-use tracker
Allows users to design their own programs and track progress
Eliminates the need for a notebook and pen at the gym
Strong cons:
May not be the best for complete beginners as it lacks coaching and guidance
Some users report issues with syncing, saving workouts, and app glitches
Learn more in our full review of Strong.
Freeletics: Best for bodyweight workouts
Freeletics is a relatively new fitness app that offers various workout programs and nutritional coaching.
They provide training focused on bodyweight exercises, but also include some dumbbells and running.
Freeletics pros:
Tons of bodyweight exercises
Wide range of workout plans catering to different fitness goals and preferences
Nutritional coaching (can be helpful for users looking to improve their diet along with their exercise routine)
Freeletics cons:
Numerous options and flashy names for programs, which can lead to program hopping and hinder progress for new trainees
Strong focus on HIIT-style training (beneficial for cardiovascular fitness, but not the best method for building muscle)
Many users have noted that the workouts offered by Freeletics are not significantly different from free YouTube videos, calling into question the app's value proposition
Some users have complained about being charged without their knowledge due to an automatic renewal system, and receiving no response when contacting Freeletics for assistance
Learn more in our critical review of Freeletics.
Final verdict: the winner is...
Dr. Muscle is a great bodybuilding app for beginner bodybuilders. It comes with different workout programs that are tailored to your level of fitness and goals. It also has a feature that allows you to create your own workout program, which is great for those who don't have the time to go to the gym. With Dr. Muscle, you can also track your progress and use the app to get advice from experts.
13 bodybuilding apps tested
We tested the following bodybuilding apps (13 in total). Here's the full list, including those that didn't make the cut.
What to look out for in a great bodybuilding app for beginners
For anyone looking to get serious about their bodybuilding goals, having the right app to serve as a virtual personal trainer can make a huge difference.
But with so many apps out there, finding the best one can be daunting.
When selecting a bodybuilding app, it's important to consider factors such as:
You goals and experience
Your budget
The app's features and ease of use
The app's support
Your goals and experience
Your goals and experience as a bodybuilder should be the first factor to consider when looking for the best bodybuilding apps. There are apps tailored for beginners, intermediate and advanced bodybuilders, so be sure to find the one that suits your current level. Additionally, apps like Jefit and 7 Minute Workout are great for those who are starting out, as they provide an easy-to-follow workout plan and include instructional videos.
Your budget
Your budget is one of the most important factors to consider when choosing a bodybuilding app. Some apps are free, while some are more expensive. Before you decide to purchase an app, make sure to check the price and make sure that it's within your budget.
The app's features and ease of use
It's important to look for an app that's easy to use and has the features you need. Features like progress tracking, timers, and customizable workouts can help you stay motivated and make the most of your workouts.
The app's support
The app's support is another important factor to consider.
Look for an app with a responsive customer support team, a comprehensive help center, and an active community forum. This will ensure that you have access to the necessary resources and assistance when you encounter any issues or have questions about your workouts.
Additionally, apps that offer regular updates and new content can keep you engaged and motivated to continue your bodybuilding journey.
FAQ
Best bodybuilding app
Dr. Muscle stands out as the best bodybuilding app due to its unique combination of cutting-edge technology and science-backed training principles.
With features like adaptive training, customized workouts, and comprehensive progress tracking, Dr. Muscle provides a user-friendly and effective platform for anyone seeking to achieve their bodybuilding goals.
Its commitment to science-based training and continuous updates make it a top choice for those looking to maximize their workouts and achieve the best possible results.
Best free bodybuilding app
This free bodybuilding app is a great starting point for beginners who are just getting into the fitness world. It has several features, like a workout planner, nutritional advice, tracking progress, and detailed instructional videos. Plus, it's incredibly easy to use and navigate. It also offers a wide range of exercises and workouts that are tailored to fit any level of fitness.
Best bodybuilding app at home
JEFIT is one of the best bodybuilding apps for beginners. It comes with an extensive range of exercises, allows you to track your progress, and also allows you to create and customize your own workout plans. It also has a built in rest timer, so you can keep your rest periods consistent.
Best app to track progressive overload
If you're looking for an app to track your progress as you work on building muscle and strength, then you should check out Lift Log. This app allows you to record and log your workouts and makes it easy to track your progress over time. You can also set goals and track your performance as you get closer to reaching them. It's a great app for beginners looking to build muscle and strength.
How to spot of a great bodybuilding app
When you're looking for the best bodybuilding app for beginners, there are a few features you should look out for. First, a good bodybuilding app should have an extensive library of exercises and a variety of progress tracking features. These features can help you stay motivated and track your progress. Secondly, the app should also have instructional videos which can guide you through proper form and technique. Lastly, you should also check if the app offers diet and nutrition plans which are tailored to your individual needs. If the app has all of these features, then it's a great choice for beginners.
Is there a nutrition plan included with the apps?
Dr. Muscle and Freeletics both offer a nutrition plan.