Fitbod vs Jefit in 2022: Weight Lifting Apps Comparison and Expert Review
Which app is the best workout companion for lifters?
If you're looking for a way to improve your workouts without spending thousands of dollars on gym equipment and personal trainers, you've come to the right place.
In this article we'll compare weightlifting apps Fitbod and Jefit, and tell you how they stack up against each other. We took a look at both apps and found:
Key features
Pros and cons
Common user feedback
Why this review is different
If you search Google for reviews of Fitbod and JEFIT, you'll find they lack focus.
Here, we focus on Fitbod vs JEFIT for lifters. Like lifting heavy weights? Want to build muscle, strength, and an impressive physique? This review is for you.
Let's dive in.
Fitbod: brief review
Fitbod is a fitness app that gives users personalized workout recommendations based on their goals, schedule, and available equipment. It offers a variety of exercises ranging from bodyweight workouts to barbell lifts. The app also tracks users' progress and provides a map of muscle recovery.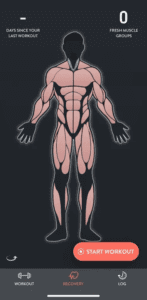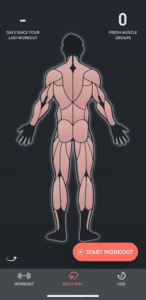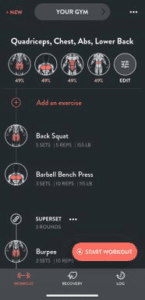 Key features of the Fitbod app
Personalized workouts
Adapts to your equipment
Muscle recovery map
Fitbod workout app pros and cons
Pros:
Easy to use and navigate
Creates custom workouts based on your goals, fitness level, and available equipment
Detailed analysis of each workout and progress tracking
Cons:
Was only available for iOS devices for a long time (Android app is new and users report it's way behind)
The app is not free – it costs $12.99 per month or $79.99 per year
Some users have complained that the customer support is not very responsive
Some users say it's like a "random workout generator"—that it lacks programs and long-term planning.
You can learn more about the Fitbod app in our definitive guide: Fitbod Workout App Review & Alternative for Smart Lifters in 2022.
Overall, it's a great tool for those looking to get in shape and achieve their fitness goals. However, it is important to be aware of the downsides before signing up for a subscription.
How much does Fitbod cost?
Sadly, Fitbod is not free. It's a subscription-based app. The cost of the app varies depending on the length of the subscription, but it typically starts at around $10 per month (Fitbod does run promotions). There is also a free trial available for those who want to try the app before committing to a paid subscription. However, the free trial is short. At the time of writing, you are limited to 3 workouts. If you're looking for a free option, we have a guide with 5 free alternatives to Fitbod.
JEFIT: brief review
There are many workout apps on the market these days, but JEFIT is one of the most popular. The app allows users to set and track their workout goals, as well as log and monitor their progress. The app also provides a community forum where users can connect with others for support and motivation.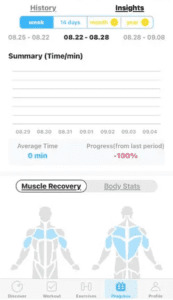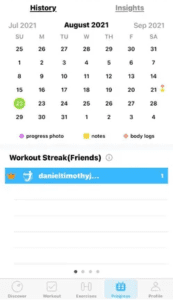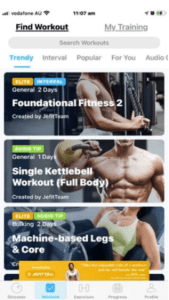 Key features of JEFIT app
Flexible workout planner
1400+ exercises library
Detailed body stats tracking
Here are some pros and cons of using this app to help you make a decision about whether or not it's right for you.
JEFIT workout app pros and cons
Pros:
The app is free to download and use.
It has a large database of exercises, which can be sorted by muscle group, equipment, or type of exercise.
You can create your own workout routines and log your progress.
Cons:
The app is ad-supported (must subscribe to remove)
Some users have reported that the calorie tracking feature is inaccurate
Its workouts and programs are not very in-depth, which will become a problem as you become more advanced
JEFIT app subscription & cost
Unlike Fitbod, JEFIT has a generous free plan. It includes a flexible workout planner, tracker, and 1400+ exercises library. Subscribing to JEFIT removes ads and gives you access to premium workouts, advanced tracking, and exercise tips from JEFIT experts. The cost of a Jefit app subscription is $12.99 per month at the time of writing.
Fitbod vs JEFIT Comparison
| | | |
| --- | --- | --- |
| Features | Fitbod | Jefit |
| Cost? | $59.99 per year | $39.99 per year |
| Customized workouts? | Yes | Yes |
| Free trial? | Yes | Yes |
| Dedicated programming based on goals? | Yes | Yes |
| Personalized workouts each day? | Yes | No. |
| Workout advancement and progression? | Yes | No |
| Pre-filled sets, reps, and weight for each exercise? | Yes | No |
| Ability to use without equipment? | Yes | Yes |
| Integration with smartwatches (Apple Watch, Fitbit)? | Yes | Yes |
| Community sharing and support? | No | Yes |
| Cardio integrated? | Yes | Yes |
| Easy app navigation? | Yes | No |
| Included instruction videos for each move? | Yes | Yes |
| Form cues (technique) and instructions? | Yes but lacks some pointers | Yes |
| Replacement exercise option? | Yes | No |
Fitbod vs JEFIT: which is the best weightlifting app?
So, which is the best weightlifting app?
FitBod offers a more personalized experience, as it allows users to input their own data and preferences to create customized workouts. JEFIT, on the other hand, has a wider range of exercises and workouts available, making it more suitable for those who want more variety in their workout routine.
Fitbod is a great option for those who are looking for ease of use and highly-personalized workouts. However, it's not free. And it's not cheap! The short free trial and relatively high price will likely deter some people.
With JEFIT, you can create custom routines, track your progress, and access a huge database of exercises. All for free. You can also join challenges and measure up against other users.
So, which is the best weightlifting app? It really depends on your needs and preferences. If you want an app that is customizable and easy to use, then Fitbod is a great option. If you want an app with a wide range of features, then JEFIT is a good choice.
In conclusion, both apps offer similar features, and their paid plans are priced about the same. So, it really comes down to personal preference.
To sum up:
Want personalized workouts and don't mind paying extra? Fitbod may be just what you're looking for.
Want a flexible workout planner and 1400+ exercises all for free? JEFIT might just be the app for you.
Is there a better app than Fitbod and JEFIT?
There is no one-size-fits-all answer to this question, as the best app for you depends on your specific fitness goals and preferences. However, some popular alternatives to Fitbod and JEFIT include:
Fitbod vs JEFIT vs other workout apps?
Is FitBod or JETFIT truly the best app out there? More coming soon.

Try Dr. Muscle For Free – An Alternative Weight Lifting App To Build Muscle Faster
Real user reviews of Fitbod
A Reddit user by the name thefinish says, "Yeah I would. I want something to keep track of what I'm doing and give me a new workout, whether I'm at the gym or at home. I'm not using it for hare-core gains or a detailed weight-lifting program, nor am I tracking weight gain/loss macros, but honestly it keeps me active and excited to work out."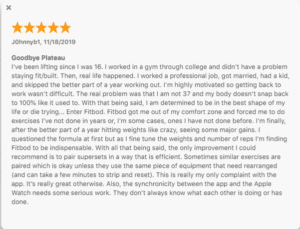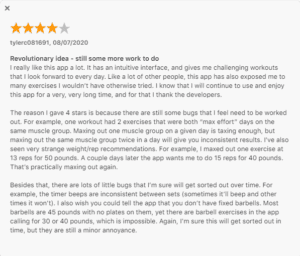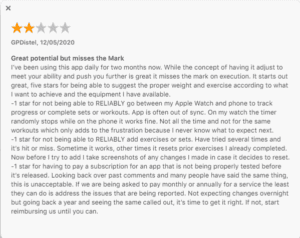 Real user reviews of JEFIT
A Reddit user by the name steadily says, "Shake Weight. Though in all honesty, for a basic program that gives you a slew of different workout routines, it is a decent program. I used it for about 6 months, then realized I knew in my head a good 15 or so body part exercises that I could switch up as I needed to. If you use the app during workout to log and get an idea what to do and how to do it, it can be a very useful app."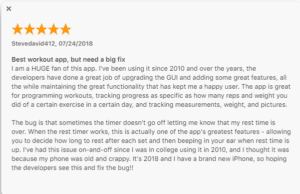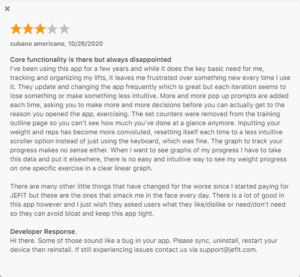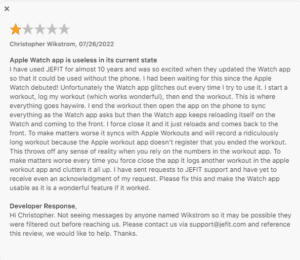 Expert review of Fitbod & JEFIT
A study was held to evaluate the effectiveness and the user retention time of 28 randomly selected fitness apps; out of 28 JEFIT was ranked 6th; it scored lowered only because of its hard-to-understand user interface. Fitbod was not included in this study.
According to some experts, they lean toward Fitbod because of its prevalence of hardcore bodybuilding and muscle gain. However, some do not recommend Fitbod for beginners because of its intense workout regimes.
We recommend you download both apps and start their respective free trials to see that the quality and content are what you desire.
FAQ
Who is JEFIT best for?
JEFIT is best for people who want to track their workouts and see their progress over time. The app has a lot of features that allow users to customize their workouts and see their results. There is also a community aspect to the app, which allows users to connect with other people who are using the app and share tips and advice.
Who is Fitbod best for?
Fitbod is a great fitness app for people who want to get in shape and improve their overall health. The app provides personalized workout plans and tracks your progress, so you can see your results over time.
Who is Fitbod NOT for?
Users of Fitbod report it may not be the best at building muscle. Learn more: Fitbod Bodybuilding Results: User Reviews—Before & After Photos.
Can you use Fitbod on Android?
Yes, you can use Fitbod on Android. You can download the app from the Google Play Store. However, for a long time, the app was only available for iOS devices. The Android app is rather new and users report it's lagging behind in features and functionalities. For a full review, see our guide on Fitbod for Android.
Is there a free version of Fitbod?
No, there is no free version of Fitbod. However, there is a 3-workout trial available so that you can try out the features of the app before deciding whether or not to purchase a subscription. Learn more: Is Fitbod Free in 2022? 5 Free Alternatives—Weight Lifting Workout Apps.
Fitbod vs JEFIT: Free trial?
Fitbod has a short free trial (3 workouts). JEFIT has a completely free plan (ad-supported).

Try Dr. Muscle For Free – An Alternative Weight Lifting App To Build Muscle Faster